DaDo: Frequently asked questions
What does a DaDo do?
---
The DaDo enables you to carry out jobs such as re-tipping, re-clawing, ring re-sizing, filling in porosity, repairing jump rings, bolt rings, fine chains even hollow jewellery plus much much more. You can even work around stones! You can see the DaDo in action here: DaDo: Precision around Precious Stones (4:11)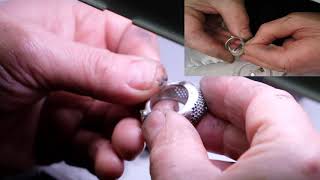 Freefrom introduces the DaDo (1:11)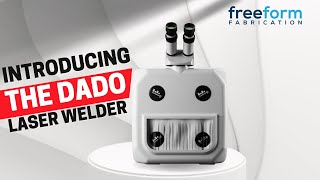 More videos can be found on our YouTube
---
What metals can I work with?
---
All of them! DaDo loves working with platinum and steel especially, all other precious metals come a very close second.
---
How long is the warranty?
---
DaDo comes complete with a 2-year warranty
---
Do I need to service my DaDo?
---
Your DaDo is maintenance-free, just keep it clean!
---
What kind of after-sales support can I expect?
---
Freeform has a dedicated team full of expert knowledge ready to assist you, whatever your needs.
---
Can I use different spot sizes on my DaDo?
---
Yes! Simply adjust it using the sliding scale on the roof of the chamber. ​
---
Do I need argon gas?
---
Argon gas can be used to provide a stronger weld, usually, you only need it if you work with titanium. You can purchase argon gas on websites like Gwer Ltd and Hobby Weld
---
My workshop gets hot during the summer, will my DaDo still work?
---
Yes, the DaDo will work in warm conditions – but for the best results, the work environment should be 17 – 35 °C.
---
How do I book a demo?
---
You can book yourself a demo by clicking this link. If you would like for us to visit you, please call ahead and we'll let you know our availability.
---
---
DaDo Laser Welder
Small and Versatile
The DaDo will change how you think about laser welding. It is no longer the domain of just the big production chains, with the price this low and the machine this compact anyone can get involved!
The demand for laser welders has increased over the years for commercial use, and several jewellery makers swear by the efficiency and functionality of the DaDo welding machine. This laser welder is a dream-come-true for a lot of people, and its unique and intuitive design stands out in the trade.
Quick Facts:
The DaDo is low in cost - roughly a third of the price at only £2,990

The DaDo is easy to use – only one training session is necessary and comes free with your purchase!

The DaDo is cheap to maintain – the only thing expected from the user is keeping the chamber clean.

The DaDo is compact – at only 40cm x 40cm x 40cm fits into any workspace!
Applications:
Repairing fine jewellery

Assembly of pieces

Secure jump rings and other delicate mechanisms without risk

Repair and assembly of eyewear

Prepare and repair dental and orthodontic fixtures
Traditional ARC welders are bulky to handle but good for certain uses, unfortunately they usually cost an arm and leg. Instead, the DaDo welder is designed to replace them as a more versatile workshop tool, keeping your projects on time and your wallet safe!
The DaDo comes with a mobile app and voice assistant features that allow you to exercise complete control over your device. Or you can watch videos online to see the power comparison and the popular DaDo welder in action.
​
​
​